Common Clinical Trial Delays and How To Avoid Them
Posted on Mar 16, 2022 by Scott Crandall.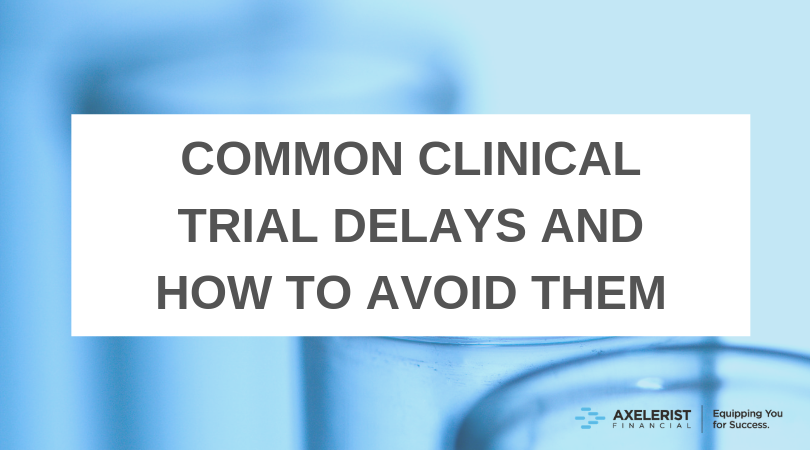 Clinical trial delays have become the norm for the vast majority of drug research and development. Across the board, 8 out of 10 trials will face delays and 94 percent of delays are longer than one month.
While even the briefest delay can significantly increase costs, others may impact long-term drug profitability or even result in failure.
To reduce delays, it is important to first understand why they are so persistent and then evaluate and implement proactive solutions.
Common Reasons for Delays Include:
Unmet or complicated compliance and regulatory standards
Procedure management gaps
Inefficient processes
Communication difficulties
How to Be Proactive and Avoid Delays from the Start
Although it's impossible to account for all the unexpected challenges of an increasingly complex research environment, there are ways to minimize the odds of clinical trial delay.
One obvious solution is 'hands-on' management. By establishing an open and close relationship with each study site, management is able to maintain optimal workflows while minimizing routine administrative challenges. It will become easier to react rapidly before a minor equipment problem turns into a considerable delay.
Having a carefully planned study design in place, well-executed regulatory submission documents should be generated. This will not only keep the trial on schedule but also keep costs down.
Finally, accurate data entry and integration is critical to ensure usability and avoid delays due to otherwise avoidable errors. Personnel responsible for data entry must be provided with sufficient training. Also, monitoring and control mechanisms should be put in place and data entry deadlines carefully tracked.
Meeting Compliance and Regulatory Standards
Another area that can cause otherwise avoidable clinical trial delays is the complexity of meeting compliance and regulatory standards.
Pharmaceutical companies and academic institutions all have particular requirements for reviewing myriad aspects of a clinical trial. Issues arising from meeting these standards can cause considerable delays.
Export compliance applies to everyone, and any organization that sends products, services or technology to foreign countries is subject to export control regulations.
Regardless of what is exported, you need a comprehensive program in place that ensures you're compliant in all areas to prevent time lost due to export violations holding up delivery.
Furthermore, investigators can be significantly challenged by various state and federal regulatory requirements that can also adversely affect your trial's timeline.
Communication and Procedure Management
The importance of communication and procedure management in avoiding clinical trial delays cannot be overstated.
Effective communication is not only critical to explain the value of a trial to participants, funders, and other stakeholders, but will also ensure support for your research (and any future studies) in the region where the research is conducted. Avoiding miscommunications can also prevent misinformation causing overreactions that lead to otherwise avoidable delays.
Communications are intimately linked to the conduct of the research and optimally, are addressed in the trial's protocols and standard operating procedures.
Procedure management itself is another mission-critical component to maintain the trial schedule, remain in compliance, and keep personnel on the same page as the study progresses.
Proactively Reducing Delays Raises Odds of Success
The research landscape grows increasingly difficult to navigate. Managers who proactively confront known challenges reduce the odds of costly delays that could significantly impact both time to market and a medication's long-term profitability.
A hands-on approach, training, and close monitoring of personnel will help prevent small problems from developing into considerable delays. Established standard operating procedures that include communications guidelines smooth processes and prevent delays due to negative public relations through misunderstanding of key facts about the research.
Compliance and regulatory standards vary between academic institutions, pharmaceutical companies, and government agencies; investigators must meet these challenges head-on. By devoting the necessary resources to researching and meeting standards, delays caused by failing to meet these requirements are avoided.
Outsourcing as a Solution
Preventing clinical trial delay can consume time and resources better dedicated to the trial itself. Axelerist Financial provides project managers who will help you meet documentation and compliance requirements while seamlessly getting the equipment you need, where and when it's needed.