Lower Equipment Costs-for Clinical Trials
Posted on Mar 16, 2022 by Scott Crandall.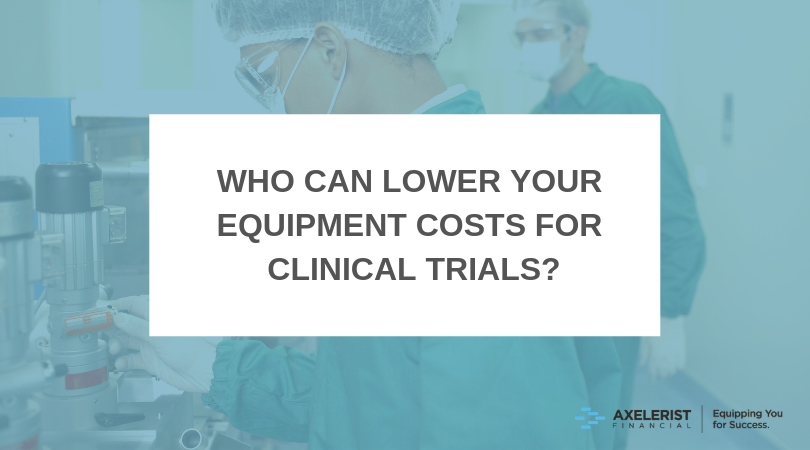 WHO CAN LOWER YOUR EQUIPMENT COSTS FOR CLINICAL TRIALS?
Clinical trial studies are an essential part of pharmaceutical and biotechnology product development. Governed by strict protocols, these crucial tests ensure the safety of the public while confirming the reliability and effectiveness of manufactured drugs and medical devices. But the necessity of these trials can come at a steep price.
Clinical trial equipment rentals can be a great way to loosen the budgetary constraints felt by most companies when starting their trials, and there are many providers that offer this type of service. However, sourcing a quality provider isn't always easy. And since the majority of studies are completed in smaller environments with limited human resources, it's important to work with a partner that can not only lower your equipment rental costs but also offers full-service support while managing the logistics of your trials from start to finish.
So how do you know if you're getting the value you need from your clinical trial equipment solutions provider? Here are a few things to consider when choosing the right company to work with.
Competitive Equipment Rental Costs
The financial investment to run a clinical trial is significant, so saving on medical equipment and supplies can make a positive impact on your budget allotments. However, while renting or leasing your clinical trial equipment on a regular payment schedule can save you a considerable amount of up-front capital, it's important to ensure you are maintaining the lowest cost of ownership over time. To do this, it's important to compare rates across multiple providers ensuring they can meet your short- and long-term financial goals.
Axelerist is a clinical trial equipment leasing specialist that provides cost-effective solutions to organizations managing clinical trials. When compared against other providers in the industry, Axelerist offers the lowest prices available on new and used medical equipment and are experts at creating financially sustainable rental solutions for their clientele.
Healthy Inventory Levels and Procurement Capabilities
Clinical trial equipment suppliers typically only maintain a certain level of inventory on-hand, and this limits the level of service they can provide. Limited stock availability can sometimes force sponsors into having to work with multiple providers for the same clinical trial, or source and procure their own specialized materials. This can be a time-consuming and resource-heavy process and takes away from the financial benefits of getting your trial supplies and equipment from one main supplier.
Axelerist helps companies eliminate these issues by keeping a large portfolio of equipment inventory at our U.S. and European depots. But more than just a provider of in-stock equipment, Axelerist is able to use their strong monetary resources to source any of the specialized equipment and resources you need to make your clinical trial a success. Whether your business needs access to centrifuges, EKG and ECG rentals, incubators, or high-quality cooling equipment turning to an Axelerist lease option is a smart choice for most sponsors.
One thing to keep in mind is many suppliers don't keep largescale equipment like Ultra-cold Freezers in stock at all times. When selecting a solution, keep that in mind that you may end up waiting weeks or months for a -86° freezer to be manufactured. That's where Axelerist's model differs. Axelerist has you covered and keeps a stock at all times of the typical items needed most by sponsors, including -86° Ultra-cold Freezers.
Among other products, Axelerist is a provider of the ULT-25NE Ultra-Low Temperature Shuttle Freezer. For smaller laboratory spaces this Ultra-cold Freezer is a perfect blend of both maneuverability and energy-efficient cold-chain management. The equipment plugs into any outlet and maintains the smallest footprint in its class. And as your clinical trial needs scale, Axelerist gives you the ability to upgrade your smaller equipment for larger applications with quick turnaround times.
Full-Service Support and Fast Lead Times
Regardless of whether you purchase or lease your clinical trial equipment, the costs associated with initial installs, equipment calibration, and collection of materials pre- and post-trial adds up quickly. This doesn't even consider the expense of having to upgrade equipment over time or transferring to new trial locations. It's important to note that not all clinical trial suppliers feature the same level of service, and it's in your best interest to align with one that can actively support your business objectives.
Axelerist is dedicated to caring for all your lab equipment requirements, giving you back the time and resources you need to develop quality pharmaceutical products. They do this by providing the very best rates in clinical trial equipment rentals while including all associated shipping and collection costs. Their service also includes a full-time, dedicated project manager as a single point of contact for clients and an online portal for project details including shipping and tracking details.
Axelerist is a global equipment rental service provider with over 30 years of experience serving the Life Sciences industry. They specialize in clinical trial equipment solutions and maintain a large quantity of on-hand inventory for all of your laboratory needs. If you're interested in a cost-effective, sustainable way of managing your laboratory equipment needs, contact Axelerist today and speak with one of their industry experts.